WE CARRY THE CLASSIC SHAKER STYLE DOORS YOUR HOME NEEDS
Throughout the years, shaker doors have remained a top choice for interior doors.
With their unwavering commitment to functionality, shaker doors display a minimalist design with very little in the way of ornamental flourishes when compared to other interior door styles. Shaker doors are available in both frameless and framed construction options, the latter of which pairs equally well with the inset style, and full or partial overlays.
Stylish and versatile shaker doors lend themselves to many interior design styles, whether contemporary, modern, transitional, or rustic. The shaker style is also frequently seen on cabinet doors, making it easy to achieve an overall cohesive interior design. As well, this style of interior door is often less expensive than its counterparts. Shaker doors are a low-risk design element with their timeless appeal that has made them a top choice in renovations and door replacements for decades.
At Fancy Doors, we carry a wide array of interior and exterior doors in all styles and materials to meet your needs. Our interior hollow core doors are a practical, and generally less expensive, alternative to many other interior door choices. By utilizing the timeless shaker style, you can add a timeless elegant simplicity to your home.
Fancy Doors has the largest selection of interior doors in Edmonton, and the biggest showroom of interior doors in Western Canada. Along with a great selection of interior doors, Fancy Doors can also fill any order quickly as our new production facilities allow us to carry an incredibly large inventory.
We are glad to serve our residential and commercial customers, providing them with the interior doors needed for their homes or businesses.
Timeless Style and Practicality with Shaker Doors
The origins of the shaker doors are reflected in the core ethics of the Shaker society who created them: strength, stability, and practicality achieved through efficient design, containing only elements that are practical.
Fundamentally, the Shaker society's commitment to leading simple lives led to what we know today as shaker style. Without the benefit of sophisticated tools, the shaker designs featured straight, unadorned lines, and their craftsmen were dedicated to superior artisanship and quality.
Made up of a flat central panel surrounded by a raised square frame, the shaker door adheres to these sensibilities with simple five-piece construction. By utilizing these sensibilities, the shaker style has endured for well over 100 years and its influence can be seen in many homes and interiors today.
These days, the shaker style profile stays true to its generations-old square simplicity but can adapt to any modern taste. The recessed shaker panel offers numerous stylistic possibilities, from industrial to modern, and contemporary to cottage-style, shaker doors have practicality which is reflected strongly in their distinctive aesthetic.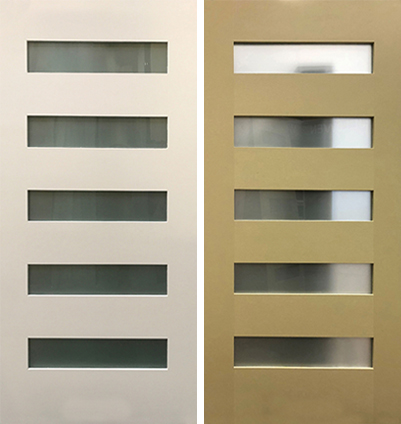 NEW ADDITIONS TO OUR INTERIOR STYLE DOORS
Fancy Doors added elegant interior doors to our showroom.
We have a Nuvo French, Kappa French, Berkley, Summer Brook French, Kayla French, Kappa Eco, Kappa Eco 0.5, Kayla Eco, Kayla Eco 0.5, Saddle Brook Eco 2020, Saddle Brook Eco 0.5, Nuvo Eco, Nuvo Eco 0.5, Anno 4 French and many more interior doors. These new interior doors are available in many designs, sizes, and glass options.
Visit our showroom today or Call (780) 432-7700!
FOR INTERIOR DOORS & MORE, VISIT FANCY DOORS TODAY!
Whether you are looking to substitute a practical door with an affordable replacement, or upgrade to an exquisite natural wood or french door upgrade, Fancy Doors has the solution for you.
Located in Edmonton and locally-owned, we stock a diverse selection of interior doors in a variety of wood species, core types, and styles.
From elegant, sophisticated accents to your home, to unbeatable classics such as shaker doors, our stock is guaranteed to have the interior door that fits your home.
If you are seeking more information, view our Edmonton doors gallery, come to see us in-person, or get a free quote online. Our beautifully engineered doors are available in a smooth or textured finish suit any decor.
Edmonton Shaker Style Doors FAQ's